News & Highlights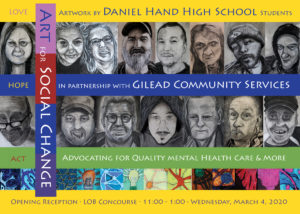 ART for SOCIAL CHANGE – Daniel Hand High School Partners with Gilead Community Services, March 2, 2020: Inspired by the work of Abby Carter, whose powerful portraits of patrons at the St. Vincent de Paul Soup Kitchen, put a face on the struggles of the poor and homeless in Middletown, students at Daniel Hand High School in Madison began a portrait drawing project with the hopes of raising awareness and advocating legislative action for quality mental health care.
Thanks to Patti Burke, Gilead staff and clients graciously agreed to have their portraits drawn. The positive work that Gilead is doing was highlighted in class but, as the project evolved, discussions were had about the societal prevalence of mental illness and substance abuse; no one is immune. The conversation quickly turned to mental health and teens. Some students decided to put their face on the issue. The statistics are staggering; according to the National Institute of Health, nearly 1 in 3 of all adolescents,  age 13-18, will experience an anxiety disorder. Hospital admissions for suicidal teens doubled in the last decade. The National Education Association recently published an article that cited the following alarming data from the U.S. Centers for Disease Control and Prevention: One in six high school students reported "seriously considering suicide" in 2017. That statistic included one in four girls and nearly half of gay, lesbian, and bisexual students.
While we have  much work to do, to insure that quality mental health care is accessible to all, I'm encouraged that students are talking about the issue. Talking openly about mental illness removes the shame or embarrassment that prevents many from seeking help, for themselves or a loved one. The other lesson in this project is about the Power of Art to effect positive change.
Students are paying attention.  Their conversations about social issues and the passion with which the students have engaged in this art project has reaffirmed my optimism about the future and the belief that "Art can change people and people change the world," attributed to musician John Butler.
*Thank you to Board Member, Suzanne Gaskell for spearheading and coordinating this project!
---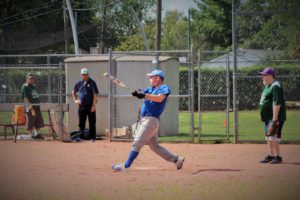 Gilead Gladiators Success – August 2019. Congratulations to the Gilead Gladiators softball team on their recent win over New Haven, the strongest team in the league!
Tom Harrison, Gladiator Head Coach and ACT Engagement Specialist, gives us his post game report: "Gladiators started off with an early lead of 4-0 in the 1st inning. New Haven made a little come back with three runs in the 2nd and eventually took the lead in the 3rd inning. The Gladiators battled back and took the lead in the 5th, making it 9-8. New Haven had the bases loaded with one out but the Gladiators hung on with a game ending double play! We had a total of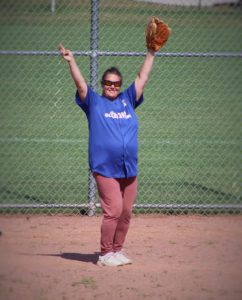 three double plays and one home run."
The Gladiators generally play every Thursday in August and September.  Contact Tom at tharrison@gileadcs.org for game schedule and more information.
---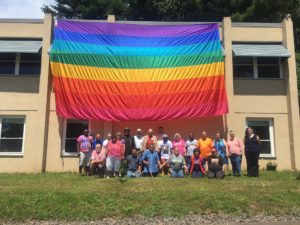 Gilead's Social Club Celebrates PRIDE Month – June 28, 2019. In conjunction with the City of Middletown's PRIDE parade on Saturday, June 22nd, Gilead coordinated with Melissa Cordner from True Colors CT, answered questions from clients and discussed topics such as: what LGBTQ stands for; expressing your sexuality, human and civil rights; and how to be an ally of people in the LGBTQ+ community. "The bottom line is to respect people and just be nice to each other," she told the group.
Bill Urich, a member of the International PRIDE Movement and ACT Team Recovery Specialist Case Manager, talked about the history of the movement and why we celebrate PRIDE month. Bill provided us with a beautiful montage of posters and information that gave us a feeling for the entire movement (50-year anniversary on June 28!), and helped us understand the history of the LGBTQ+ persons internationally. Attendees enjoyed the presentation, along with lunch and rainbow cake, and ended the day posing under the flag that proudly hung from the Social Rehab Center!
---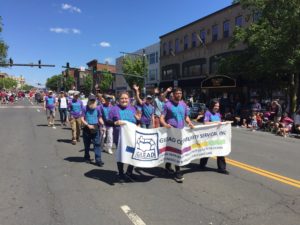 Gilead Marches in Memorial Day Parade – May 27, 2019. Staff, clients, board members and volunteers came out to represent Gilead at Middletown's Memorial Day parade.  This was the second year Gilead marched in the parade.  There were a lot of cheers of support along the route.  Gilead felt truly loved!
---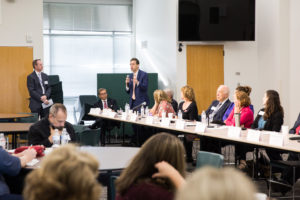 Nonprofit Candidate Forum – September 27, 2018: Over 100 people attended this event that featured about 20 legislative candidates legislative candidates!  This is by far the largest candidate/legislator turnout that we have ever had. Thank you to the event sponsors: MARC Community Resources, Kuhn Employment Opportunities, Middlesex Community College and Keep the Promise Coalition for their generous contribution to our event breakfast!  We wish everyone the best of luck in the upcoming elections and encourage all constituents to register to vote!  Register here: https://voterregistration.ct.gov/OLVR/welcome.do
---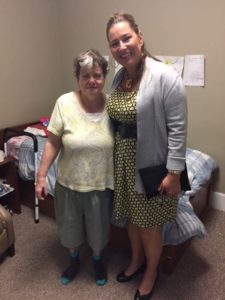 A Visit from Melissa Ziobron – August 2018: Melissa Ziobron, State Senate Candidate had a wonderful visit with at the Juniper Program! She came and spent some quality time at the program and was able to take a tour of this beautiful home and meet all of the wonderful staff and program participants that were there during the tour.
Some of the highlights from the tour included:
• Admiration of the client artwork displayed throughout the house (particularly the beautiful bird art!)
• A rich discussion about the value of nonprofits to the community and the need for consideration of continued conversions from State to Private programming
• A detailed conversation about the impact of the 1% funding increase to all nonprofit providers that she fought for last year, including our appreciation for her advocacy and some of the challenges that we are experiencing on the implementation side.
• Advocacy for continued work to adequately fund non-profit agencies to support all of the great work that we do in the community and to address the chronic underfunding that plagues non-profits throughout the state and threatens our missions!
• Quality time and photo opportunities with a couple of the program participants in the home who were excited to show off their bedrooms and living space!
Thank you to the staff at Juniper and the program participants for welcoming Representative Ziobron into their program this morning and for being such gracious and warm hosts. The loving and caring environment of Gilead was on full display this morning and it was so wonderful that Melissa was able to see that. And a special thank you to Representative Ziobron for coming out to our programs and spending time to see what Gilead means to the community! She commented on how caring the staff were and recognized that agencies like Gilead are successful because of how focused and dedicated our staff are to our mission. Thank you all for the wonderful work that you do every day and thank again to Juniper for providing a positive and welcoming environment.
---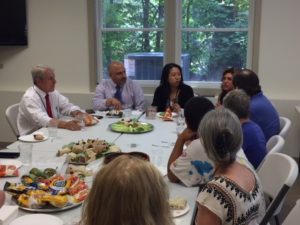 CT State Senator Suzio Visits Gilead – August 2018:  Senator Len Suzio stopped by and spent some time with the ACT, Outpatient Clinic and WISE Programs. We were very appreciative that he could take the time to meet with our Baldwin Center staff and tour the OPC and ACT office spaces to see the great outpatient services that are being provided! 
Highlights included: 
Senator Suzio shared his appreciation of the value that nonprofits add to the community and listened to ideas from Gilead Staff about opportunities for continued conversions from State to Private Programming.

We thanked Senator Suzio for his advocacy that influenced the decision to provide a 1% increase for all non-profit providers last session.  We also provided some education around the some of the challenges that the 1% increase is creating on the implementation side based on how it has been interpreted by OPM

Discussed the Senator's charitable gifts/tax legislation and had an honest conversation about the negative impact this would have on Nonprofits in CT.

ACT Program Participants shared the significant and life changing impact that Gilead's ACT services have had on their lives.  Both were wonderful and shining examples of the recovery that is possible through the integrated services that Gilead offers.

General advocacy for continued work next session to adequately fund non-profit agencies to support all of the great work that we do in the community.  The need to address the continued and chronic underfunding that plagues non-profits and threatens our missions was emphasized through the conversation.
A special thank you to Senator Suzio for coming out to our programs and spending time to see what Gilead means to the community!  He has shared on numerous occasions how impressed he has been with the staff and services at Gilead!
---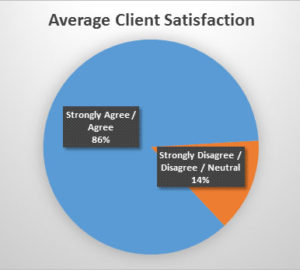 Exciting Survey Results – June 2018: Gilead Client's Overall Average Satisfaction this year was 86% agency-wide – the highest level of satisfaction in five years! This is the fourth year in a row total overall satisfaction has increased. The highest levels of satisfaction, agency-wide, was in the areas of: Access; Participation in Treatment; Quality & Appropriateness; Satisfaction with Services; and Respecting Wishes with Family Involvement – all with an 89% to 91% satisfaction level. 96% of clients reported that "staff here believes that I can grow, change and recover." 90% of clients deal more effectively with their daily problems and 85% feel that the quality of their lives is better this year than it was last year.  Gilead is proud and thankful to all our staff for the great work they do every day and to all the clients that work hard day in and day out to improve their lives!
---
Liberty Bell Award – May 2018:  Congratulations to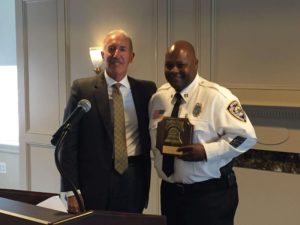 our very own Gary Wallace, who was recognized by the Connecticut Bar Association for his exceptional work as a Middletown Police Officer. He was presented with the Liberty Bell Award for his presence as an outstanding representation of the Connecticut law and justice system. This award is given to an individual in a legal profession, who is not a lawyer, and is committed to bolstering relationships between the community and other law and justice officials. In addition to being a valued member of the Gilead Board of Directors, Gary is involved with a number of other local organizations and initiatives.
---
Gilead spends Hill Day at the Capitol – April 2018: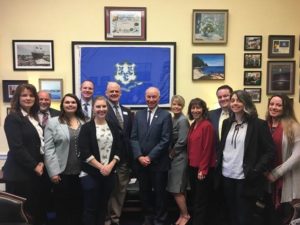 Gilead CEO Dan Osborne visited Washington D.C. last week to advocate for non-profits and mental health organizations. Dan and 12 colleagues from the CT Nonprofit Alliance were participating in "Hill Day," an advocacy event coordinated by the National Council for Behavioral Health. On Hill Day, leaders from the state level meet with Federal Delegation to communicate legislative priorities. Dan reported, "This year, I was fortunate to be able to meet with Connecticut's Federal Delegation including multiple staff members as well as legislators (including Representative Joe Courtney, pictured)."A take-away from Hill Day that Dan would like all of us to reflect on is the importance of being an advocate. "While political advocacy can often feel like a daunting task," he says, "it is rewarding to see the change that all of us can make when we take steps to advocate for what we believe in. This year, we learned that several of Connecticut's leaders in Washington have co-sponsored bills that we urged them to get involved in last year when we attended Hill Day, 2017! Based on support from the Connecticut delegation, these bills now have the chance to move forward and generate additional funding and favorable legislation that will help us significantly back home in CT."
---
Gilead appreciates the partnership we have with Genoa Healthcare! Check out their new branding video to learn more about all the services they offer.
---
---
Mental health issues affect everyone, not just those struggling with these challenges.  Just ask Cathy and Jim Probolus of Portland, CT.  The Probolus's are long-time supporters of and volunteers for Gilead.  When their nephew, Daniel Howe, passed away, they established the Daniel G. Howe Memorial Fund for Gilead Community Services. This endowed fund will help Gilead meet the needs of our clients and their families for years to come and honors the life's work of an inspiring individual.  Read more.
---
Gilead and Oak Hill unite to build a new model of care – November 7, 2016. Oak Hill and Gilead Community Services are pleased to announce a new affiliation, which brings together two strong organizations with an innovative vision. Gilead, a leading regional private provider of mental health services, is joining forces with Oak Hill, the state's largest private provider of services for people with disabilities.  Recognizing that many individuals in both organizations live with both mental health needs and physical disabilities, Gilead and Oak Hill will work to build a new model of integrated care that meets the unique needs of each individual served.  Read more.
---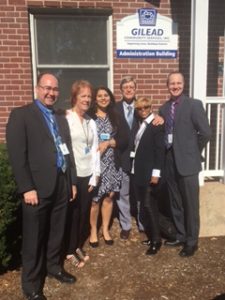 Congratulations to Gilead Staff on a successful CARF Survey – October 2016.  We are extremely pleased to announce that  Gilead is expecting a full 3-year accreditation based on a successful CARF survey that concluded on October 14th. During the review, CARF shared with us that "visiting Gilead was a very encouraging experience." They also shared that, "The culture of person centered care was evident throughout the organization. Staff treat clients with respect, dignity and believe in their ability to improve."  Please join us in congratulating our amazing staff  who have dedicated themselves to Gilead's mission and the high quality services that we provide.
---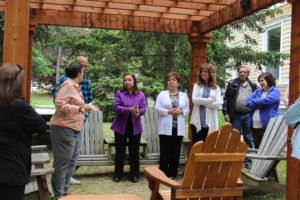 Community Citizen Excellence – May 2016. Gilead was honored to present our Community Citizen Excellence Award to Laura Janik and Linda DeLillo, sisters of long-time Community Apartment Program (SCAP) resident, John. Loved by all for his generosity and good spirits, John's family grew to be like a family to others who lived at SCAP, as well as staff. Sadly, both John and his father passed away within months of each other. Though grief stricken, Linda and Laura continued to show care and concern for the clients and staff. On a beautiful Sunday afternoon in May, family and friends gathered under the pergola donated by Laura and Linda to celebrate John's life. In addition, the family donated funds for a rocking chair in memory of another client that had recently passed away. With their unflagging compassion and commitment, Laura and Linda embody Gilead's mission of Improving Lives and Building Futures.
---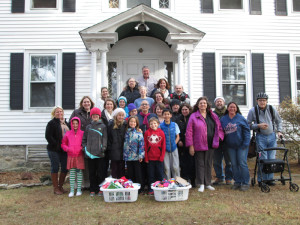 Chester Elementary's Kindness – Feb. 25, 2015. Gateway Community Treatment Team in Chester welcomed students from Chester Elementary School's Interact Club Junior/Student Council recently when they delivered items for the clients. The students collected several bins at school for Gateway club members.  Clients and students enjoy cookies and juice before the bus takes them back to school.  Thank you Chester Elementary School for your kindness and generosity!
---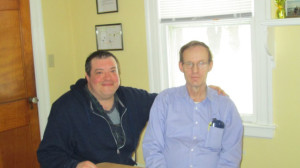 Voices in the Dark – May 20, 2015. New network aids perceptual and auditory hallucination sufferers.  Nathan started hearing voices when he was 16. Alan's began much earlier, when he was 6, and Sandy's started after a psychotic breakdown as a young adult.
---
Media Inquiries