News & Highlights
2018 Highlights: 2018 was a memorable year for Gilead! While there are many more accomplishments and memorable events to share, here are a few highlights:
Gilead turned 50! Throughout the year, we have celebrated Gilead's 50 years of providing life changing services. It has been fun, informative and exciting to learn about and celebrate our 50 years through various events and activities including the Client Awards Banquet, the Run for Every 1 Road Race, Quizine for a Cause, the Hearts of Gold Donor Campaign and our Major Donor Event.
We Celebrated our Founders. As part of our 50th Anniversary, we honored two of our founders, Richard "Doc" Wiseman and Matt Lamstein, at a donor event in May. This reunion was a celebration of the vision, dedication and courage that led these men to begin Gilead House in 1968 to address a need that they saw in the community. Just months after this wonderful reunion, we joined with his family to remember and celebrate the life of Richard "Doc" Wiseman, as he passed away at the age of 89 on August 4, 2018.
Compassion Counts: This year we collaborated with dozens of other providers to present two Compassion Counts events (Jan. 31st and Nov. 14th). This year's events focused on Addiction and Transgender and Non Gender Conforming Issues and continued to shine a light on the need for sincere compassion within our communities!
Staff Satisfaction Results: Gilead achieved an overall staff satisfaction rate of 94% on this year's Staff Survey – our highest satisfaction rate ever! This is one of our greatest accomplishments this year and one that we are proud of! We could not do the work that we do without our staff.  We thank them for all their tireless work and commitment to Gilead's mission!
Further Integration with Oak Hill: Throughout 2018, we have continued to find efficiencies and transition administrative functions to Oak Hill. This resulting cost savings has allowed us to manage a challenging fiscal environment while continuing to invest in high quality programming that does not compromise.
Grants & Funding: Gilead has continued to diversify its funding through accessing various grants and contracts that allow us to grow our services. Highlighting this year's new funding is $335,000 from the Nonprofit Grant Program that is being used to renovate SCAP's exterior, provide various IT upgrades and implement our time and attendance software. In addition, Gilead has received certifications to provide Parent Education Program (PEP) trainings and Acudetox services, which will generate additional revenue for Gilead. This year, we all worked together to successfully advocate for a cost of living increase from the State Legislature. We hope to build on the progress that was made in 2018 during the upcoming legislative session!
And…Coming Soon!  We have rented space at 175 East Main Street to serve as the new home of the WISE program and a future site for providing additional resources and essential supports to people who are looking for mental health services in Middlesex County. Stay tuned for more updates about this exciting new program that we are calling Gilead Resource Center!
We can't wait to see what 2019 will bring for Gilead Community Services!
---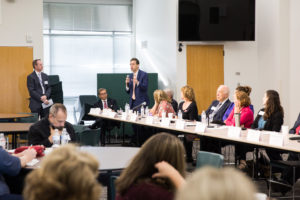 Nonprofit Candidate Forum – September 27, 2018: Over 100 people attended this event that featured about 20 legislative candidates legislative candidates!  This is by far the largest candidate/legislator turnout that we have ever had. Thank you to the event sponsors: MARC Community Resources, Kuhn Employment Opportunities, Middlesex Community College and Keep the Promise Coalition for their generous contribution to our event breakfast!  We wish everyone the best of luck in the upcoming elections and encourage all constituents to register to vote!  Register here: https://voterregistration.ct.gov/OLVR/welcome.do
---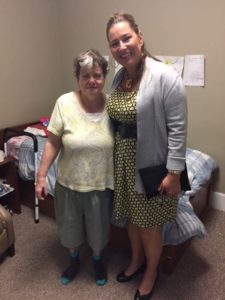 A Visit from Melissa Ziobron – August 2018: Melissa Ziobron, State Senate Candidate had a wonderful visit with at the Juniper Program! She came and spent some quality time at the program and was able to take a tour of this beautiful home and meet all of the wonderful staff and program participants that were there during the tour.
Some of the highlights from the tour included:
• Admiration of the client artwork displayed throughout the house (particularly the beautiful bird art!)
• A rich discussion about the value of nonprofits to the community and the need for consideration of continued conversions from State to Private programming
• A detailed conversation about the impact of the 1% funding increase to all nonprofit providers that she fought for last year, including our appreciation for her advocacy and some of the challenges that we are experiencing on the implementation side.
• Advocacy for continued work to adequately fund non-profit agencies to support all of the great work that we do in the community and to address the chronic underfunding that plagues non-profits throughout the state and threatens our missions!
• Quality time and photo opportunities with a couple of the program participants in the home who were excited to show off their bedrooms and living space!
Thank you to the staff at Juniper and the program participants for welcoming Representative Ziobron into their program this morning and for being such gracious and warm hosts. The loving and caring environment of Gilead was on full display this morning and it was so wonderful that Melissa was able to see that. And a special thank you to Representative Ziobron for coming out to our programs and spending time to see what Gilead means to the community! She commented on how caring the staff were and recognized that agencies like Gilead are successful because of how focused and dedicated our staff are to our mission. Thank you all for the wonderful work that you do every day and thank again to Juniper for providing a positive and welcoming environment.
---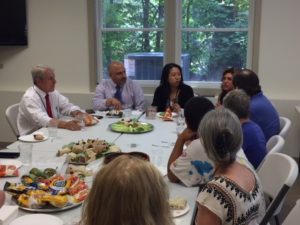 CT State Senator Suzio Visits Gilead – August 2018:  Senator Len Suzio stopped by and spent some time with the ACT, Outpatient Clinic and WISE Programs. We were very appreciative that he could take the time to meet with our Baldwin Center staff and tour the OPC and ACT office spaces to see the great outpatient services that are being provided! 
Highlights included: 
Senator Suzio shared his appreciation of the value that nonprofits add to the community and listened to ideas from Gilead Staff about opportunities for continued conversions from State to Private Programming.

We thanked Senator Suzio for his advocacy that influenced the decision to provide a 1% increase for all non-profit providers last session.  We also provided some education around the some of the challenges that the 1% increase is creating on the implementation side based on how it has been interpreted by OPM

Discussed the Senator's charitable gifts/tax legislation and had an honest conversation about the negative impact this would have on Nonprofits in CT.

ACT Program Participants shared the significant and life changing impact that Gilead's ACT services have had on their lives.  Both were wonderful and shining examples of the recovery that is possible through the integrated services that Gilead offers.

General advocacy for continued work next session to adequately fund non-profit agencies to support all of the great work that we do in the community.  The need to address the continued and chronic underfunding that plagues non-profits and threatens our missions was emphasized through the conversation.
A special thank you to Senator Suzio for coming out to our programs and spending time to see what Gilead means to the community!  He has shared on numerous occasions how impressed he has been with the staff and services at Gilead!
---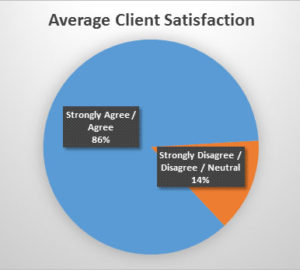 Exciting Survey Results – June 2018: Gilead Client's Overall Average Satisfaction this year was 86% agency-wide – the highest level of satisfaction in five years! This is the fourth year in a row total overall satisfaction has increased. The highest levels of satisfaction, agency-wide, was in the areas of: Access; Participation in Treatment; Quality & Appropriateness; Satisfaction with Services; and Respecting Wishes with Family Involvement – all with an 89% to 91% satisfaction level. 96% of clients reported that "staff here believes that I can grow, change and recover." 90% of clients deal more effectively with their daily problems and 85% feel that the quality of their lives is better this year than it was last year.  Gilead is proud and thankful to all our staff for the great work they do every day and to all the clients that work hard day in and day out to improve their lives!
---
Liberty Bell Award – May 2018:  Congratulations to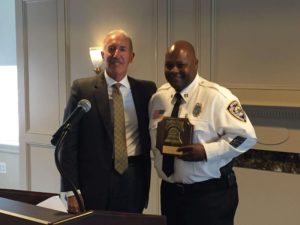 our very own Gary Wallace, who was recognized by the Connecticut Bar Association for his exceptional work as a Middletown Police Officer. He was presented with the Liberty Bell Award for his presence as an outstanding representation of the Connecticut law and justice system. This award is given to an individual in a legal profession, who is not a lawyer, and is committed to bolstering relationships between the community and other law and justice officials. In addition to being a valued member of the Gilead Board of Directors, Gary is involved with a number of other local organizations and initiatives.
---
3rd Annual Run for Every 1 – April 8, 2018: Our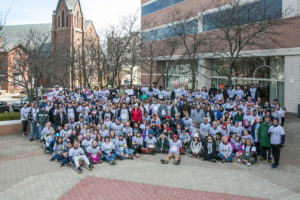 team was a brilliant force at the race, with over 200 walkers and runners, and over 300 team members total! We exceeded our original fundraising goal of $30,000 and received almost $34,000 in donations! To quote of our fantastic board members, "I came away from the road race today feeling exhilarated and inspired. A Juniper Home resident got 2nd place. A Gap client's dad drove all the way down from Maine to walk with him. A client from Gateway walked the entire 3.5 miles. Chip and Gateway cheered us on. Curtis Weybright from First Church used a generator on his truck to power the microphone. All the First Church volunteers gave generously of their time and delicious baked goods. The spirit of mutual support and togetherness among staff, clients and Gileadophiles filled the First Church Fellowship Hall. Everything went off like clockwork."
A HUGE thank you to our sponsors A.R. Mazzotta Employment Specialists, Peach Pit Foundation, Coughlin Service Corporation, CBP, Genoa Healthcare, Middlesex Hospital, and First Church Middletown, UCC. Their large displays of support, in combination with donations from our community and their friends & families, made this event possible. An additional thank you is deserved by First Church for all their time & energy spent preparing for and hosting the event. We are so grateful to have you on Team Gilead!
Thank you to our photographer, Sandy, for your excellent work capturing the true energy of the Run for Every 1. For more photos from the event, visit the Perceptions Photography album at http://www.sendtoprint.net/…/GileadRace2018/index.php/cover/
---
Gilead spends Hill Day at the Capitol – April 2018: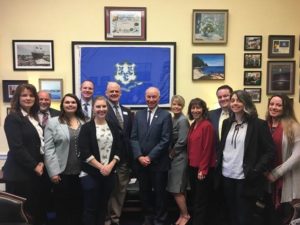 Gilead CEO Dan Osborne visited Washington D.C. last week to advocate for non-profits and mental health organizations. Dan and 12 colleagues from the CT Nonprofit Alliance were participating in "Hill Day," an advocacy event coordinated by the National Council for Behavioral Health. On Hill Day, leaders from the state level meet with Federal Delegation to communicate legislative priorities. Dan reported, "This year, I was fortunate to be able to meet with Connecticut's Federal Delegation including multiple staff members as well as legislators (including Representative Joe Courtney, pictured)."A take-away from Hill Day that Dan would like all of us to reflect on is the importance of being an advocate. "While political advocacy can often feel like a daunting task," he says, "it is rewarding to see the change that all of us can make when we take steps to advocate for what we believe in. This year, we learned that several of Connecticut's leaders in Washington have co-sponsored bills that we urged them to get involved in last year when we attended Hill Day, 2017! Based on support from the Connecticut delegation, these bills now have the chance to move forward and generate additional funding and favorable legislation that will help us significantly back home in CT."
---
Gilead appreciates the partnership we have with Genoa Healthcare! Check out their new branding video to learn more about all the services they offer.
---
---
Mental health issues affect everyone, not just those struggling with these challenges.  Just ask Cathy and Jim Probolus of Portland, CT.  The Probolus's are long-time supporters of and volunteers for Gilead.  When their nephew, Daniel Howe, passed away, they established the Daniel G. Howe Memorial Fund for Gilead Community Services. This endowed fund will help Gilead meet the needs of our clients and their families for years to come and honors the life's work of an inspiring individual.  Read more.
---
Gilead and Oak Hill unite to build a new model of care – November 7, 2016. Oak Hill and Gilead Community Services are pleased to announce a new affiliation, which brings together two strong organizations with an innovative vision. Gilead, a leading regional private provider of mental health services, is joining forces with Oak Hill, the state's largest private provider of services for people with disabilities.  Recognizing that many individuals in both organizations live with both mental health needs and physical disabilities, Gilead and Oak Hill will work to build a new model of integrated care that meets the unique needs of each individual served.  Read more.
---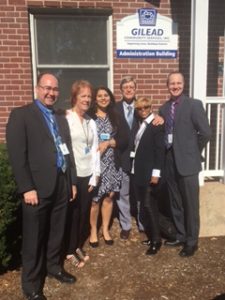 Congratulations to Gilead Staff on a successful CARF Survey – October 2016.  We are extremely pleased to announce that  Gilead is expecting a full 3-year accreditation based on a successful CARF survey that concluded on October 14th. During the review, CARF shared with us that "visiting Gilead was a very encouraging experience." They also shared that, "The culture of person centered care was evident throughout the organization. Staff treat clients with respect, dignity and believe in their ability to improve."  Please join us in congratulating our amazing staff  who have dedicated themselves to Gilead's mission and the high quality services that we provide.
---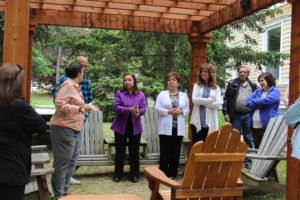 Community Citizen Excellence – May 2016. Gilead was honored to present our Community Citizen Excellence Award to Laura Janik and Linda DeLillo, sisters of long-time Community Apartment Program (SCAP) resident, John. Loved by all for his generosity and good spirits, John's family grew to be like a family to others who lived at SCAP, as well as staff. Sadly, both John and his father passed away within months of each other. Though grief stricken, Linda and Laura continued to show care and concern for the clients and staff. On a beautiful Sunday afternoon in May, family and friends gathered under the pergola donated by Laura and Linda to celebrate John's life. In addition, the family donated funds for a rocking chair in memory of another client that had recently passed away. With their unflagging compassion and commitment, Laura and Linda embody Gilead's mission of Improving Lives and Building Futures.
---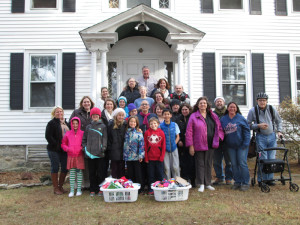 Chester Elementary's Kindness – Feb. 25, 2015. Gateway Community Treatment Team in Chester welcomed students from Chester Elementary School's Interact Club Junior/Student Council recently when they delivered items for the clients. The students collected several bins at school for Gateway club members.  Clients and students enjoy cookies and juice before the bus takes them back to school.  Thank you Chester Elementary School for your kindness and generosity!
---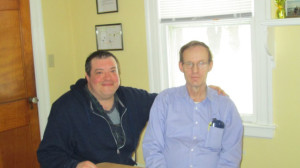 Voices in the Dark – May 20, 2015. New network aids perceptual and auditory hallucination sufferers.  Nathan started hearing voices when he was 16. Alan's began much earlier, when he was 6, and Sandy's started after a psychotic breakdown as a young adult.
---
Media Inquiries