SERVING INDIVIDUALS AND FAMILIES LIVING WITH MENTAL HEALTH NEEDS IN MIDDLESEX COUNTY SINCE 1968
Compassion Counts
Compassion Counts
Register here for the upcoming Compassion Counts: Restoring Compassion & Self Care in our Lives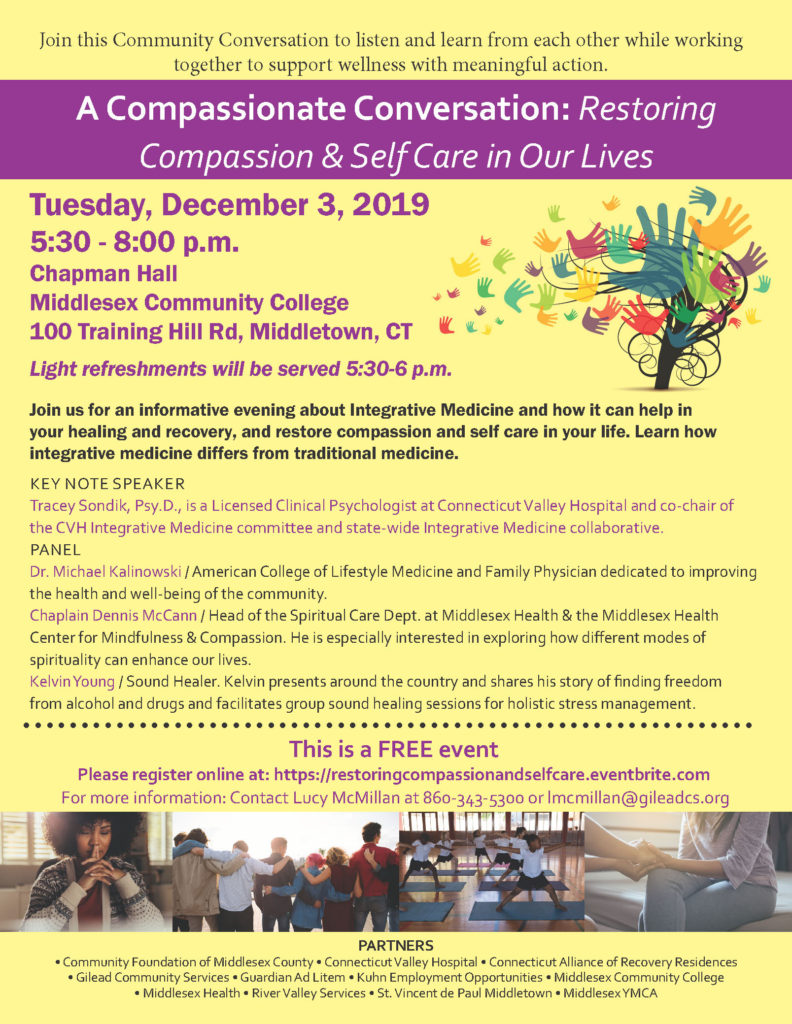 Check out News 8 WTNH spot on the recent Compassion Counts: Weathering the Adolescent Storm in a Pressure Filled World!
"When It Comes To Teens, Compassion Counts," Harbor News 1/9/19
Over 200 people attended the Compassion Counts: Weathering the Adolescent Storm in a Pressure Filled World on January 31st.  The audience watched family skits on the do's and don'ts of handling sample stressful family scenarios; a teen panel spoke eloquently and honestly about their experiences dealing with the daily stresses of school, extracurricular activities, family, friends and social situations; and ended with a Q&A.  The evening was facilitated by Alicia Farrell, Tom Allen, and Andy Buccarro and moderated by Dan Osborne. Thank you to the many partners that supported this event!
About Compassion Counts
A group of over 30 providers throughout Middlesex County joined forces to create what is now called Compassion Counts. Compassion Counts hosts two forums throughout the year — a shoreline location and in Middletown — to initiate a community conversation about mental health. Compassion Counts provides the community with an opportunity to listen and learn from each other, and work together to support mental wellness with meaningful action.
Mental Wellness Fund
Following the first Compassion Counts held in 2014, an anonymous donor started the Mental Wellness Fund at the Community Foundation of Middlesex County to ensure the conversation about mental health issues and services would continue in our communities.
To support Community Conversations, click here
To be part of the Compassion Counts Planning Committee please email us here.