SERVING INDIVIDUALS AND FAMILIES LIVING WITH MENTAL HEALTH NEEDS IN MIDDLESEX COUNTY SINCE 1968
QUIZINE for a Cause! A cross between quiz and cuisine.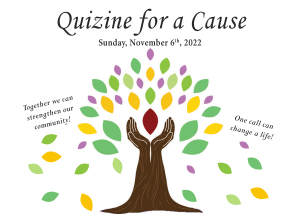 After two years of holding the event as an outdoor drive-in movie format, it felt wonderful to return to a more traditional Quizine for a Cause event this year!  The calendar may have said it was November, but the temperature made it feel like September, providing the perfect environment for us to gather together under the tent at the beautiful Wadsworth Mansion.
After a delicious dinner provided by our generous hosts, we enjoyed homemade desserts and learned about how One Call Can Change a Life.  For far too many of us, finding quality mental health care and addiction services for our ourselves or a loved one can be overwhelming. Gilead's Service Navigators at the Mental Health Resource Center were on hand to show how they are here to help.  Through personal conversations, a simulated "phone call" and take-home magnets with the phone number, guests learned how we can connect individuals with the care they need.
Thank you for spending your Sunday evening with us and coming together to support Gilead and its mission. Together, we raised $139,000.  We couldn't have done it without each and every one of you.
Together we can strengthen our community!
Quizine for a Cause is an exciting annual event that raises critical funds for client services supporting individuals on the road to recovery. Guests begin the evening with dinner at a local home or restaurant with their host and then we all gather together at Wadsworth Mansion for client stories, homemade desserts, wine and beer tasting, tea cup raffle, live auction, and trivia quizzes. The evening will feature our Mental Health Resource Center. They will show us how together we can strengthen our community and how one call can change a life!
Make a Donation
Donate to Quizine
Become a Sponsor for Quizine!
Quizine for a Cause is an exciting event that raises critical funds for client services supporting individuals on the road to recovery.  Gilead offers your organization a prime opportunity to build brand loyalty, access a desirable target market and be a strong corporate citizen.
We are indebted to the Quizine 2021 Sponsors who donated over $80,000 to our mission this year. This includes board members, vendors, leadership members, community members. Almost 2/3 of the money we raised this year was through the generosity of our sponsors. We owe a big part of this year's success to their support.
Quizine for a Cause cannot succeed without dinner hosts!  Read about Jean's experience as a Dinner Host here!
Join the other 20+ dinner hosts in an event that features:
Middlesex County's community leaders
Enjoy an evening out with excellent food, extraordinary desserts and a heartfelt movie
Host a party of 10 by providing dinner for your guests at a restaurant or your home.
Donating the cost of the dinner for your group to Gilead
Some hosts cook a homemade dinner at their homes, while other support our local restaurants. All of these meals served with love and dedication to the services Gilead provides every day.
Our 2021 dinner hosts included:
Dan Millstein & Jean Weigart M.D.; Monica Belyea & Steve Smith;  Frank & Barbara Zocco; Phil & Shirley Pessina; Laura Patey & Leigh Powers;  Barry Simon & Sue Silverman; Dan & Kyle Osborne; Sowgol & Paul Zakarian; Adrienne & David Maslin; Fran Ludwig; Ed McKeon; John & Suzanne Gaskell; Terri DiPietro; David & Gail Porteus; Jessica & Andrew Scheff with the Peach Pit Foundation; Justin & Chris Salvio; and Joanne Tan & Mark Conley and Betsy Gerich.